KuCoin Spot Grid Trading Bot Tutorial
Covers Specifically The Infinity Grid
The infinity grid is a derivative strategy of the spot grid, designed to avoid "missing out" from the crypto pumping.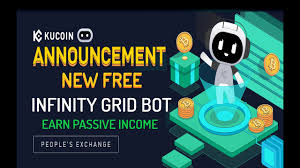 [Infinity Grid] KuCoin Trading Bot Tutorial 

Why Infinity Grid Bot
The infinity grid is an derivative strategy of the spot grid, designed to avoid "missing out" from the crypto pumping.
When you run the Infinity Grid Bot, as the market pumps, it can ensure that the bot will never run out of the range, and continue to perform "buy low and sell high" operations to help you carry out arbitrage, and at the same time the bot will hold a number of crypto equal to the value of initial investment.
Take BTC/USDT as an example. During pumping, the bot will continue to sell BTC, but ensure that there is always BTC equivalent to the initial USDT in your holding.
How does Infinity Grid Bot works
Compared with Spot Grid Bot that place orders with a fixed number, Infinity Grid Bot place orders in percentages and there is no upper limit.

Take the BTC/USDT as an example: suppose the entry price of BTC/USDT is 50,000, set the single grid profit to 1%.
When it pumps to the first grid, the BTC held is worth 50,500 USDT, so the bot will sell 500 USDT worth of bitcoins. Therefore, the number of remain bitcoins still value 50,000 USDT. Similarly, BTC will be bought when it falls, keeping the total value of BTC in hand at 50,000 USDT.
How to setup your bot
Step 1: Tap [Infinity Grid] then tap [Create] to reach the Parameter page;

Step 2: Choose [AI Parameters] or [Customize] to configure your bot;

Step 3: If you choose [Customize], you need to fill in the following three parameters manually:

1. [Stop Price]: When the token price is lower than this price, the bot will no longer place orders;
2. [Profit Rate Per Grid]: The profit rate obtained by each grid selling. The available profit per grid is 0.2-10%;
3. [Total Investment]: The total investment amount you plan to invest in the bot.
After setting the parameters, click the [Create] button and start making money!